De-icing Your Drive and Paths This Winter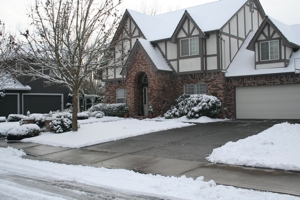 Hopefully the roads will be taken care of however clearing our driveways from ice and snow is a job we have to tackle ourselves.
Make sure you are prepared for winter in advance so you save time, money and to keep safe
Here is our guide to keeping your drive ice and snow free.
Get Ready for Winter
Have a sturdy snow shovel and a good sweeping brush to hand.

Stock on de-icing rock salt.

Keep updated with the weather reports so you can prepare for the snow & ice.
Good winter boots and warm weather clothing.
Brushing
If it has rained before a freeze, it's a good idea to brush away large quantities of water to prevent it freezing forming large patches of dangerous slippery ice.
De-icing with Rock Salt
Use de-icing salt to prevent and melt ice and snow. Rock salt can be spread on the ground before snow / ice arrives, this will prevent the snow sticking and ice forming, alterantively it can also be used to melt snow & ice after it has formed.
Shoveling Snow
Firstly prepare yourself by wearing warm clothing, good winter boots. and a pair of warm gloves.
Using a good snow shovel or spade clear away any snow and ice. Removing this enables you to get around your drive more easily and safely. This is best done sooner than later as during the day snow melts and then as temperatures drop it refreezes, when this happens it forms ice, which again is extremely slippery and unsafe, also fresh snow is much easier to shovel than compacted and refrozen snow.
Preparing your driveway means that the snow and ice will not delay you and your family and also keep you safe.