Bagged Rock Salt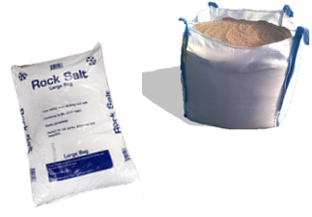 We supply the finest British de-icing rock salt in 10kg bags and 25kg bags as well as 1 tonne bulk bags, in both brown rock salt and white rock salt.
Our rock salt bags are all sealed and are suitable for storage for prolonged periods in the in the bags, rock salt is available in any quantity from 10 bags to a full artic load (1120 25kg bags). Our one tonne bulk bags can be bought in any quantity.
We supply bagged rock salt to homes, businesses and to retailers throughout the country. You buy rock salt online from 10 bags upwards.
For quotes on larger quantities of bagged rock salt please call our sales team on 0871 971 0988 or drop us an email with your salt requirements.